An outstanding centre with world-class facilities and a caring, educational environment for our youngest pupils to learn and grow in.
The importance of early years education cannot be underestimated and at Harrow Haikou we have a truly outstanding early years department for children ages 2-6 years.
Our AISL Harrow Early Years Curriculum (AHEYC) is specifically designed for AISL Harrow Schools and draws from the very best examples and experiences of kindergarten curricula around the world. It specifically incorporates the core Harrow values of courage, humility, fellowship and honour, and adheres to the Guidelines on the Learning and Development of Children aged 3-6 issued by the Ministry of Education of China and other relevant regulations, ensuring that it is mapped to meet the standards. Together with our unique pedagogical approach, we holistically cultivate children's creative thinking and teamwork ethic and ensure all younger learners achieve rounded and balanced personal development, applying what they learn to their daily lives.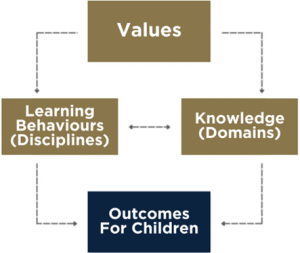 Central to the curriculum are ten Learning Domains and five Learning Disciplines. The learning domains identify the core content that children will require in order to be appropriately informed, knowledgeable, and skilled. The domains ensure that children develop effectively and are able to contextualise and support lifelong learning in conjunction with the associated learning disciplines. The learning disciplines provide content for the essential learning behaviours that enable a perspective within which learning domains will be utilised and applied. This interface between disciplines and domains lies at the heart and aspiration for the AISL Harrow Early Years Curriculum and enables children to both support and develop lifelong learning behaviours as well as understand the nature and purpose of intellectual pursuit (Katz, 2015) and the potential for deep level learning (Saljo, 1979).
The learning domains and learning disciplines are: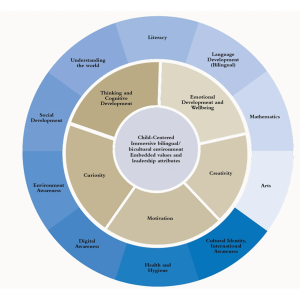 We offer a high-quality, caring educational environment for our students. We have a 'play-based' approach to learning and a strong emphasis on developing our students as citizens of the 21st Century. Areas such as Sustainability, Diversity and Digital Knowledge feature strongly in our curriculum. Our bespoke curriculum supports our philosophy that children learn through active involvement with their environment and strong relationships with others.
Harrow Haikou Little Lions is very well resourced. In addition to large homerooms, library and music room,  we have large dedicated outdoor learning environments for all learners to enjoy. All classrooms have appropriate access to modern technology which is integrated into the curriculum. The most important resource of any school is, of course, the staff. Our high-quality, well trained, caring and experienced team ensures that our children are happy, successful and thriving.